The Clock is Ticking
The air is thick with anticipation. The 2023-24 NBA season is knocking on our doors, promising a whole new level of competition and excitement. Last season, the Denver Nuggets captured their first-ever NBA title. But a quick look around tells us that the teams are pulling up their socks, especially in the Western Conference. So, what's in store for this NBA season? Who has the most pressure, and who is expected to lift the coveted Larry O'Brien trophy? Our panel of experts—Ric Bucher, Melissa Rohlin, and Yaron Weitzman—weigh in with their insights.
Spotlight on Jayson Tatum, Chris Paul and More
"Jayson Tatum. The additions of Jrue Holiday and Kristaps Porzingis give the Celtics a bolstered roster and everything they need to win a title." – Weitzman
Jayson Tatum is clearly under a microscope this season. Another failure to secure a title with a strengthened Celtics lineup will only attract finger-pointing, primarily aimed at him.
"For Paul, a 38-year-old who is in his 18th season in the league, it seems like it's now or never for him to win his first championship." – Rohlin
On the other end, we have Chris Paul. After teaming up with the Golden State Warriors trio of Steph Curry, Draymond Green, and Klay Thompson, the clock is ticking loudly for him. It's a golden opportunity to fill the glaring void in his otherwise illustrious career.
"It has to be Jayson Tatum… the noise around Tatum not being 'him' will be deafening — and maybe permanent — if he doesn't finally prove he can be the best player on a championship-caliber team." – Bucher
Damian Lillard is another name that surfaces in this conversation, but he isn't the frontrunner. Most eyes will be on Tatum to see if he can finally prove his mettle this season.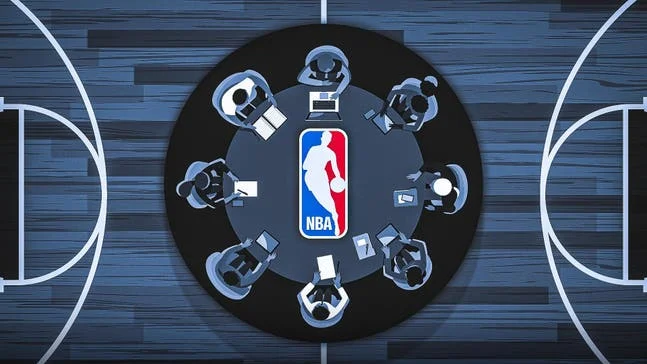 Who's Your Playoff MVP?
"There's just no answer for Nikola Jokic. He's basically a 2K cheat code." – Weitzman
When it comes to players who can make a difference in the playoffs, Nikola Jokic is a unanimous choice. His unparalleled passing and impeccable skills make him practically undefendable.
"After what transpired last season, I've got to go with Nikola Jokic. He makes the game seem easy." – Rohlin
"If I have to choose one, I'll go with Giannis Antetokounmpo, just ahead of Nikola Jokic." – Bucher
Giannis Antetokounmpo also makes a strong case for himself, especially given his ability to make an impact at both ends of the court.
Where Would You Put Your Money?
"I'm all in on the Nuggets." – Weitzman
The Nuggets, Lakers, Warriors, and Bucks are the recent champions, and all are eyeing another ring. Among them, the Nuggets seem to be the top pick for a repeat performance.
"My money is on the Bucks." – Rohlin
Melissa Rohlin, however, roots for the Bucks. The new duo of Dame and Giannis is simply electric and hard to defend against.
"It's the Nuggets by default, just because they have a longer runway." – Bucher
Ric Bucher also gives a nod to the Nuggets, citing their young and prime core as a significant advantage.
The Underdogs and Dark Horses
"The Celtics, on the other hand, are loaded and versatile and can dominate on either end." – Weitzman
"I think the Suns could really be something special this year." – Rohlin
The Celtics, Heat, and Suns have been to the Finals but couldn't cross the finish line. This time, the Celtics and Suns are the teams to watch out for, according to our panelists.
The Final Verdict
"I'm going with the Nuggets to repeat by beating the Celtics." – Bucher
"Bucks vs. Nuggets? Bucks win?" – Rohlin
"I'm going with the Nuggets over the Bucks." – Weitzman
Most bets are on the Nuggets for a back-to-back championship win. However, the pairing of Giannis and Dame could be the wild card that throws everyone off. The NBA season has always been unpredictable, and this year is shaping up to be no exception.
Whether it's Jayson Tatum proving his skeptics wrong or Chris Paul seizing his long-awaited championship, the 2023-24 NBA season promises to be a spectacle of high-flying dunks, buzzer-beaters, and unforgettable moments. So sit back, grab your popcorn, and let the games begin.