Mavericks' Resurgence After Coach's Challenge
Following a letdown against the Toronto Raptors, Dallas Mavericks' head coach Jason Kidd did not mince words. He labeled his team as "soft," setting a challenge for them to rebound. The Mavericks did not disappoint, responding with a dominant 144-126 victory over the Los Angeles Clippers.
"Dallas Mavericks responded in a big way by blowing out the Los Angeles Clippers at American Airlines Center 144-126 on Friday night."
This win was more than a mere rebound; it was a statement from the Mavericks, showcasing their resilience and capability to rise from adversity.
Luka Doncic: A Force Unleashed
Doncic's Bounce-Back Game
Luka Doncic, the Mavericks' star, was particularly spotlighted for a potential comeback game. After a less than stellar 11-26 shooting against Toronto, expectations were high. Doncic not only met but surpassed these expectations, delivering a spectacular performance against the Clippers.
"Luka Doncic mean-mugs the Los Angeles Clippers en route to a 44-point performance."
With 44 points, an impressive 17-21 shooting night, including 6-9 from beyond the arc and a perfect 4-4 from the free-throw line, Doncic was in a league of his own. His contribution extended beyond scoring, with six rebounds, six assists, and a steal.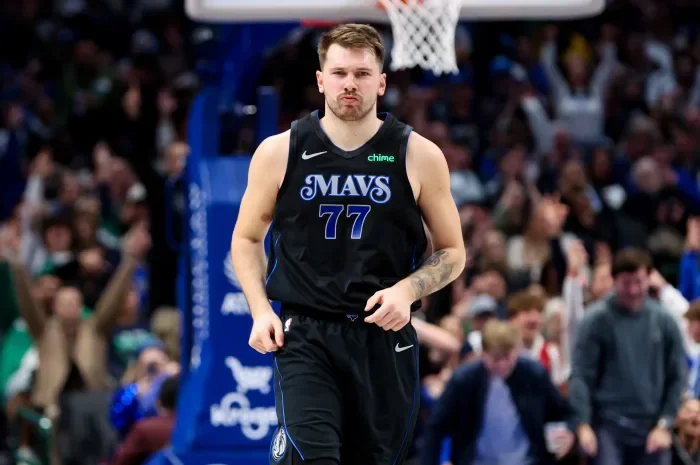 Historical Context of Doncic's Performance
Doncic's game was not just impressive in its own right; it was historically significant. The 31st 40-point game of his young career places him in an elite category.
"Doncic posted the 31st 40-point game of his young career… joining a list with Michael Jordan and LeBron James."
Being mentioned in the same breath as legends like Michael Jordan and LeBron James is not just an accolade; it's a testament to Doncic's rising trajectory in the NBA.
The Mavericks' Promising Season Outlook
Doncic's Season Averages
The Mavericks' success is not a flash in the pan. With an average of 32.9 points, a shooting percentage of 51.8% overall, and 41.5% from the three-point line, Doncic is a force to reckon with. His all-around play, averaging 8.9 rebounds, 8.4 assists, and 1.3 steals, is a significant contributor to the Mavericks' impressive start.
"The Mavs are off to their best start in nearly 20 years at 7-2."
MVP and Title Contention
If Doncic continues his current form, he is not just looking at a potential MVP title but also leading the Mavericks to be strong title contenders. His leadership and performance are pivotal in shaping the Mavericks' season.
Doncic's Rising Star in the NBA
Luka Doncic's phenomenal performance against the Clippers is a clear indicator of his growing influence in the NBA. With his ability to bounce back, score phenomenally, and make history, Doncic is not just a player to watch; he is shaping up to be one of the legends of the game. As the Mavericks continue their season, all eyes will be on Doncic and his ability to maintain this high level of play, possibly leading his team to glory in the NBA.