The HoopGrids Fever
As the NBA enters its preseason, a new kind of excitement is brewing off the courts. Fans are immersing themselves in the latest trend, the NBA HoopGrids puzzle. This daily trivia quiz has managed to carve a niche for itself, especially among the staunchest basketball aficionados. The game challenges the depths of their NBA knowledge, encompassing player histories, team shifts, and much more.
What makes HoopGrids stand out from other quizzes is its blend of challenge and fun. Every day, there's a fresh grid to crack, ensuring the adrenaline never dies down. And while the Immaculate Grid demands perfection, HoopGrids is a tad forgiving, allowing enthusiasts a margin for error.
"Every day brings a new challenge, which makes the puzzles all the more interesting."
Diving Into Today's Grid: October 9
All New Hoop Grid just dropped!

Reply with your grid if you can complete it👇https://t.co/BUHqcIh0fg pic.twitter.com/CT7p1BDYaf

— HoopGrids.com (@HoopGrids) October 9, 2023
To give a glimpse of what fans are sinking their teeth into, here's a breakdown of the October 9th HoopGrids:
Cell 1: Players like Drew Gooden, Lou Amundson, and Derrick Rose fit the bill here, having played for both the Cleveland Cavaliers and the Chicago Bulls.
Cell 2: This slot can accommodate names such as Roger Phegley, Mark Bryant, and Andre Miller, each of whom had stints with the Cavaliers and the San Antonio Spurs.
Cell 3: Think 2000s and Cavaliers, and players like LeBron James, Luke Walton, and Donyell Marshall come to mind.
Cell 4: Featuring players who were part of both the Golden State Warriors and the Chicago Bulls, this cell can have David Vaughn or Otto Porter Jr.
Cell 5: Austin Croshere and David West, who played for the Warriors and Spurs, are among the potential fits here.
Cell 6: Representing the 2000s era of the Warriors, this slot might remind fans of Baron Davis, Steph Curry, or Leandro Barbosa.
Cell 7: When we talk about Steve Kerr's ex-teammates from the Chicago Bulls, who better than Scottie Pippen, Michael Jordan, or Horace Grant?
Cell 8: From the San Antonio Spurs' roster with Kerr, big names like Tim Duncan, Manu Ginobili, and Tony Parker can easily fit in.
Cell 9: Focusing on players from the 2000s who played alongside Kerr, Avery Johnson and Bruce Bowen are among the prime candidates.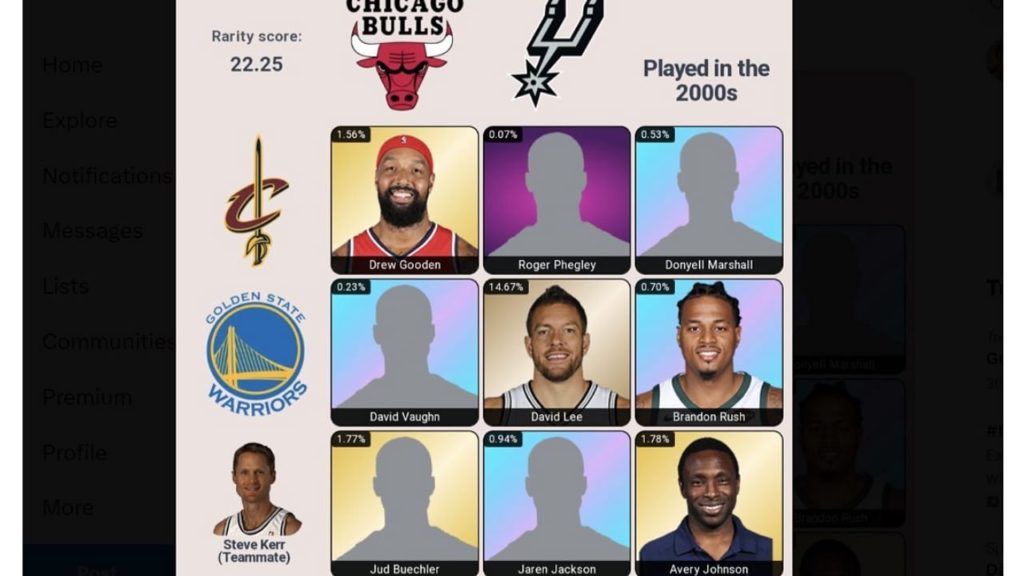 Connecting The Dots
For the devoted fans who religiously follow the HoopGrids puzzle, these names are not just random players. They signify eras, iconic matches, and memories associated with the NBA. It's this emotional connection, coupled with the thrill of the challenge, that makes NBA HoopGrids the talk of the town.
Whether you're a basketball geek looking to test your knowledge or someone looking for a fun distraction, NBA HoopGrids promises a roller coaster ride through the annals of NBA history. So, are you ready for the challenge?