Celtics Secure the Win, but Beverley Steals the Show
As basketball enthusiasts eagerly tuned in on Sunday, the Philadelphia 76ers and Boston Celtics faced off, marking the start of their preseason ventures at the TD Garden in Boston. While the scoreboard ultimately favored the Celtics, it was a spontaneous act by Sixers guard Patrick Beverley that dominated social media chatter.
Amid the heat of the third quarter, Beverley demonstrated his finesse against the Celtics guard Jaylen Brown by pulling off an impressive spinning push shot. However, it wasn't just the shot that had everyone talking. Celebrating his on-court brilliance, Beverley followed it up with the cheeky "too small" gesture, a hand sign, almost touching the floor, that has since become synonymous with that very moment.
"During the third quarter, Beverley…made the now-famous "too small" gesture, as he ran back down the court."
Beverley: The NBA's Charismatic Instigator
For those familiar with the NBA dynamics, Patrick Beverley's name often resonates with being the spirited instigator, the player who effortlessly pushes boundaries, challenges rivals, and never backs down from some healthy banter – preseason or not. Beverley's recent transfer to the Sixers is already making waves. Prior to this, he showcased his prowess with the Los Angeles Lakers and later, the Chicago Bulls, during the last season.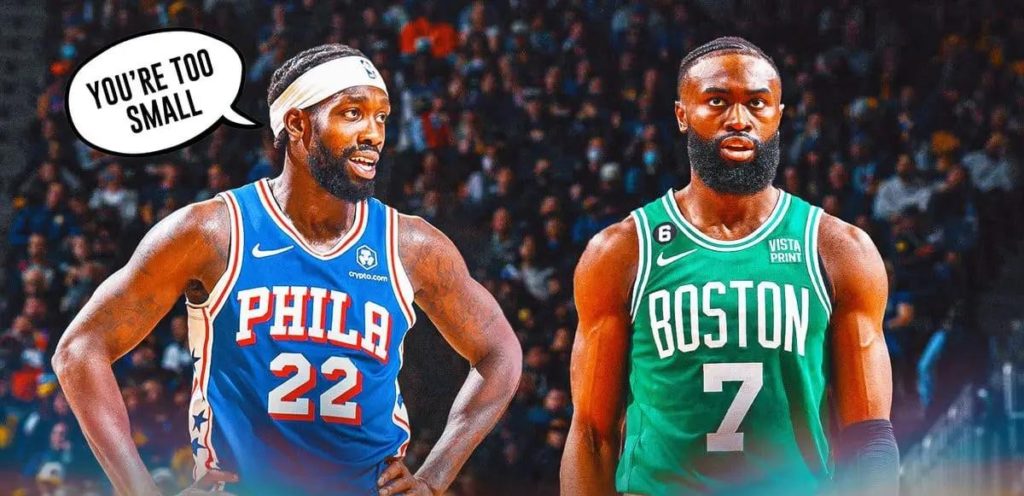 His presence in the Sixers' roster isn't just about scoring; it's about bringing a mental grit that was seemingly absent during Philadelphia's faltering performance against the Celtics in last year's playoffs. Successful teams, more often than not, have one or two players like Beverley or even PJ Tucker from the Sixers, who bring a unique fierceness to the court.
"Most contending teams have at least one or two players in the vein of Beverley or fellow Sixer PJ Tucker who are known to play with a certain edge."
Patrick Beverley hit Jaylen Brown with the "too small" after scoring on him 😅pic.twitter.com/e83qgNd3Bv

— ClutchPoints (@ClutchPoints) October 8, 2023
Looking Ahead: The Sixers' Upcoming Challenge
With the preseason buzz still in the air, the Philadelphia 76ers are gearing up for their first face-off of the 2023-24 regular season. Their challenge awaits in the form of the Milwaukee Bucks, set for October 26. Fans are already marking their calendars for the 7:30 PM ET showdown in Milwaukee, anticipating another thrilling season.
As the new season unfolds, all eyes will be on players like Beverley, who bring not just their skills, but also their unforgettable on-court charisma, promising a roller coaster of emotions and unforgettable moments for the fans.