Cris Cyborg and Dana White React to Ngannou's Boxing Debut against Tyson Fury
The Fury-Ngannou Showdown: More than Just a Match
The combat sports world was on fire with anticipation as Francis Ngannou, the former UFC heavyweight champion, prepared to step into the boxing ring against the WBC heavyweight champion, Tyson Fury. Riyadh played host to this epic showdown which saw Ngannou, who dramatically exited UFC while still an active titleholder, showcasing his skills in a new arena.
While many wrote off Ngannou's chances against a seasoned boxer like Fury, the Cameroonian powerhouse stunned naysayers. He not only stood toe-to-toe with the lineal heavyweight champion but also pushed the Englishman to the brink. Although Fury emerged victorious through a controversial split decision, the match itself became a focal point in combat sports discussions.
FRANCIS NGANNOU KNOCKDOWN TYSON FURY IN ROUND 3‼️🥊🤯 pic.twitter.com/odMkoJ17Qa

— IFN (@IfnBoxing) October 28, 2023

However, a surprising twist came when the pay-per-view numbers for this blockbuster match were revealed. As per a report shared by @HappyPunch, and credited to renowned journalist Dave Meltzer, the Fury-Ngannou bout garnered a mere 11,500 cable television buys and 56,000 ESPN+ streams in the USA. For an event of its magnitude, these numbers are notably low.
Cris Cyborg Questions the PPV Model
The startlingly low PPV figures caught the attention of former UFC featherweight champion, Cris Cyborg. Voicing her thoughts on the diminishing returns of pay-per-views in combat sports, Cyborg opined via a tweet:
"PPV is a dying revenue model."
😳😳😳
PPV is a dying revenue model. https://t.co/uNOMdYR7zN

— CrisCyborg.Com (@criscyborg) November 4, 2023
Dana White's Take on Ngannou's Stellar Performance
Despite the underwhelming numbers, one aspect of the bout remained uncontested – Francis Ngannou's remarkable performance. And it didn't go unnoticed. UFC CEO Dana White, known for his past differences with Ngannou, publicly commended 'The Predator' for his tenacity in the boxing ring.
Historically, the relationship between White and Ngannou soured due to contractual disputes. A major contention point was White's refusal to let Ngannou chase his boxing aspirations while still under the UFC contract. Post his UFC exit, Ngannou's name was associated with boxing titans like Deontay Wilder and Anthony Joshua, but it was Fury who became his first boxing opponent.
Dana White on Francis Ngannou's performance against Tyson Fury:

I didn't see the fight, but the fact that he went 10 rounds is unbelievable. https://t.co/WQJoYlFH28 pic.twitter.com/TrrE682CA6

— Jed I. Goodman © (@jedigoodman) November 3, 2023
Given the historical context and the skepticism surrounding Ngannou's chances against Fury, Dana White's praise is notable. Speaking to Donald Trump Jr., the UFC mogul expressed his admiration for Ngannou's ability to last ten rounds against a boxing legend like Fury:
"The fact that he went 10 rounds with Tyson Fury is crazy. He just went 10 rounds with Tyson Fury, Conor [McGregor] made it 9 or 10 with Floyd… I didn't see the fight, but the fact that he went 10 rounds is unbelievable."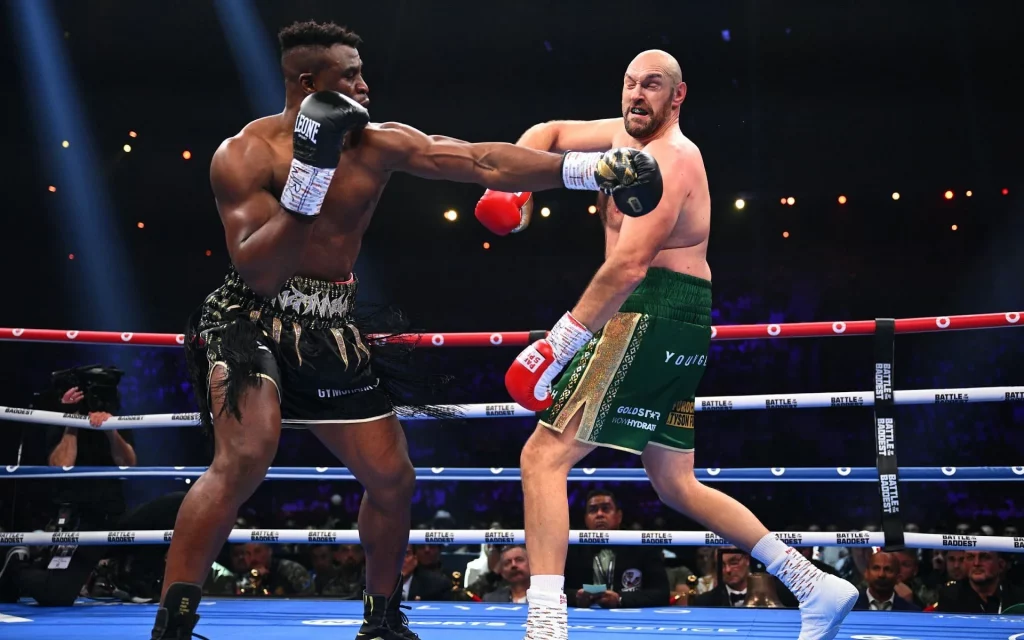 Combat Sports Landscape: A Time of Change?
The surprising turn of events, from Ngannou's impressive boxing debut against a titan like Fury to the shockingly low PPV numbers, signals potential shifts in the combat sports landscape. Whether it's the future of pay-per-view as a revenue model or the unanticipated trajectories fighters might take, one thing is certain: the world of combat sports never ceases to surprise and captivate.