Showdown in Abu Dhabi
It's the fight everyone's talking about, and it's happening in Abu Dhabi's Etihad Arena this Saturday. UFC 294 is turning heads not just for its main event, but also for an impromptu co-main event that promises to be a thriller: Khamzat Chimaev vs. Kamaru Usman.
"MMA Junkie analyst Dan Tom breaks down the UFC's top bouts. Today, we look at the co-main event for UFC 294," said Dan Tom, setting the stage for a co-main event that's buzzworthy in its own right.
The Stats: Khamzat Chimaev
Chimaev is the name on everyone's lips lately. With a record that reads 12-0 in MMA and 6-0 in UFC, he's a machine. Standing at 6'2″ with a reach of 75″, he's no small threat.
Last fight: Submission win over Kevin Holland (Sept. 10, 2022)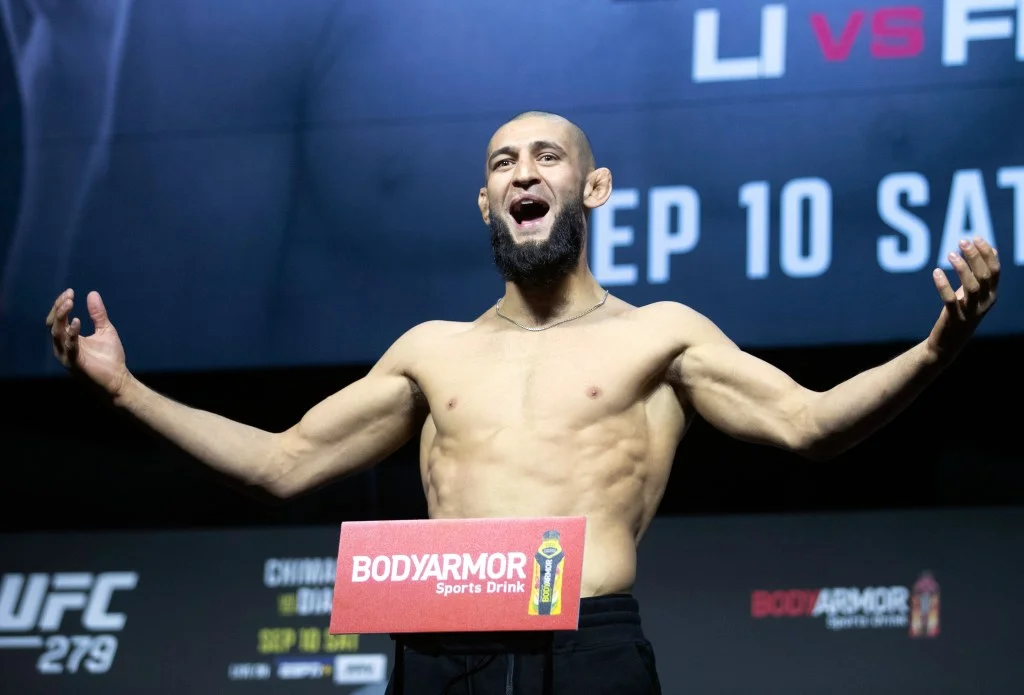 He's got the brawn and the brain with a Brazilian jiu-jitsu purple belt, national champion in freestyle wrestling, and a record of 7 KO victories and 5 submission victories. Chimaev has made sure that 8 of those wins were first-round finishes. Yeah, you read that right: he's not in the Octagon to mess around.
The Stats: Kamaru Usman
But don't underestimate Usman. The 6'0" powerhouse has a slightly longer reach at 76" and has been around the UFC block with a record of 20-3 MMA, 15-2 UFC.
Last fight: Decision loss to Leon Edwards (March 18, 2023)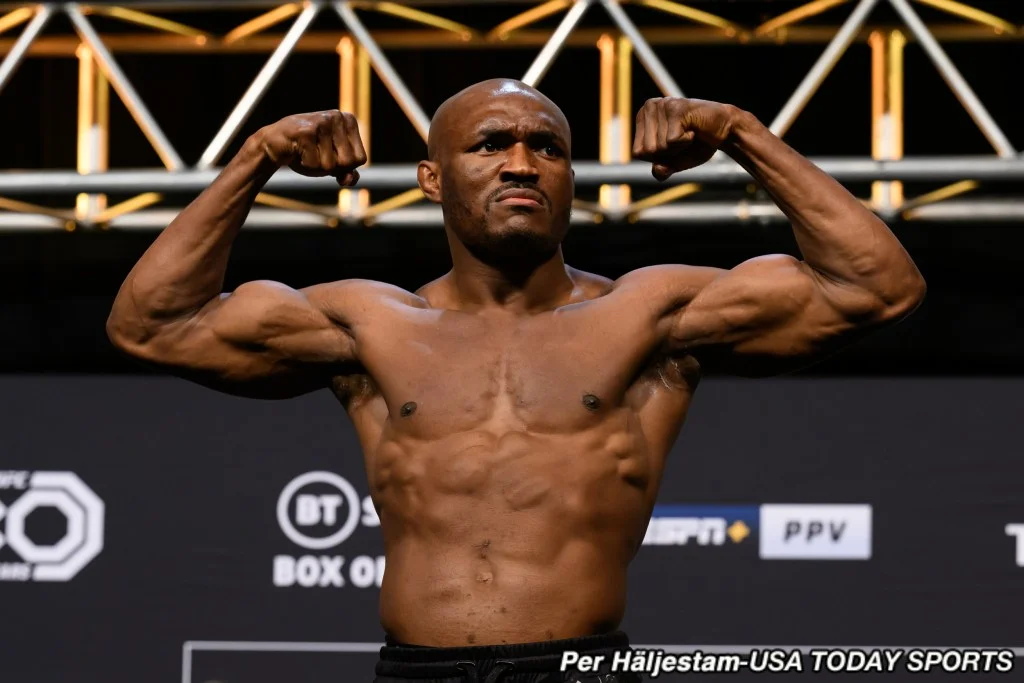 He's a former UFC welterweight champion and an NCAA Division-II national champ. He's an All-American with a good head on his shoulders and a fist that's landed him 9 KO victories and 1 submission win.
The Stand-up Game: Striking on Short Notice
What's interesting here is that both fighters have roots in wrestling but have evolved to include sophisticated striking in their arsenals.
"Unless his opponent carries a decent grappling pedigree, Chimaev usually wastes little time extending striking exchanges before looking to change his level and wrestle," Dan Tom explained.
On the flip side, Usman's strategy often involves corralling his opponents toward the cage, attacking with a flurry of jabs, bodywork, and hooks. These two gladiators bring a hybrid of martial arts into the Octagon that's as unpredictable as it is electrifying.
Rewatching Khamzat Chimaev's first amateur MMA fight and totally forgot about the makeshift playpen full of children cage-side who ended up getting a front row seat for this finish (*note the youngest girl cheering): pic.twitter.com/2XT9d0IWul

— Dan Tom (@DanTomMMA) October 1, 2020
The Ground Game: Wrestling Wars
In wrestling, it's a game of thrones and both fighters want to be king.
"Wrestling since the age of five, Chimaev has seemingly adapted to the grappling arts like second nature," Dan Tom elaborated.
Usman, on the other hand, showcases stellar takedown defense and top game control that could potentially neutralize Chimaev's offensive wrestling.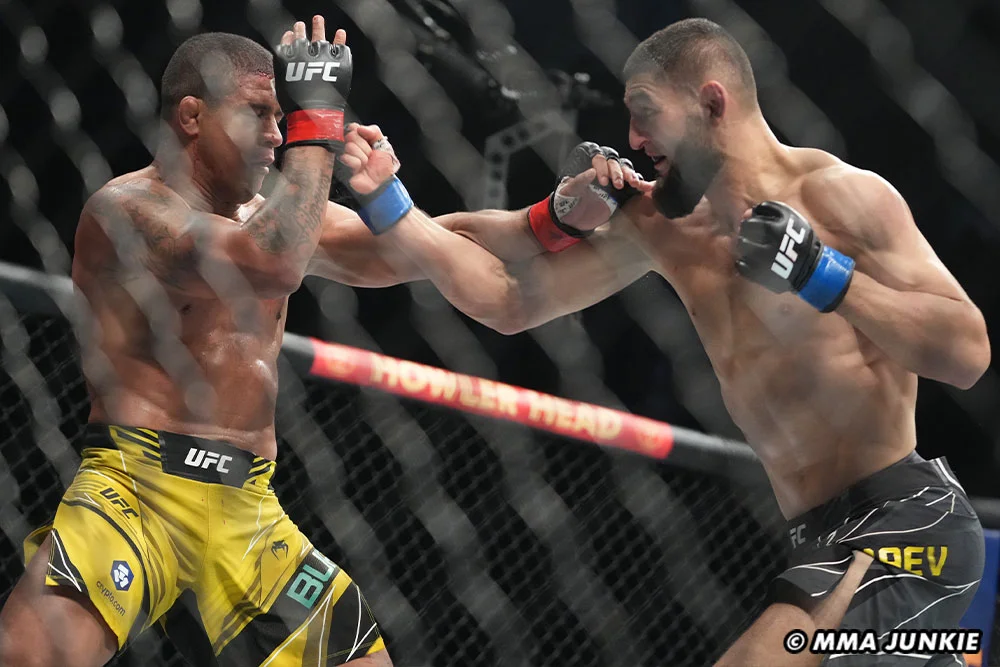 Bookie Talk: The Betting Landscape
Bookies and betters seem to lean toward Chimaev with odds at -320, whereas Usman is the underdog at +235. Whether it's the 11 days' notice or the recent decision loss to Leon Edwards, the odds are not in Usman's favor.
What to Expect: The Final Word
So, who's walking away with the W? Even with the short-notice nature of this fight and Usman's noted defensive prowess, it's hard not to see Chimaev's striking and grappling skills taking center stage.
"I believe that Chimaev is cruising for an eventual bruising, but I don't think it comes here," Dan Tom predicted.
We're in for a show, folks. Whether you're Team Chimaev or Team Usman, this co-main event is not to be missed.
Say no more fam https://t.co/Jzm3uPqRvz pic.twitter.com/b7hrAOxnRF

— Miguel Class (@MigClass) March 14, 2023
Last-Minute Predictions
As for me, I'm riding with the experts here. Unless Usman pulls off a miraculous Hail Mary, my money's on Chimaev to finish the fight before the judges have to step in. Time will tell if the MMA gods agree.
So, grab your popcorn and hold onto your seats because the UFC 294 co-main event is promising to be a clash for the ages. See you in the Octagon!