A Last-Minute Main Event Rematch: Volkanovski vs. Makhachev
In an unexpected turn of events leading up to UFC 294, Alexander Volkanovski is all set to replace Charles Oliveira, confronting Islam Makhachev for the lightweight title in Abu Dhabi. This last-minute change was prompted by a training injury to Oliveira, thwarting the much-anticipated rematch originally scheduled for October 21.
The Challenge of Short Notice Fights
Stepping up with only 11 days to prepare, Volkanovski is on track to challenge Makhachev in an attempt to become a two-division champion. Their previous clash at UFC 284 in February 2023 was a riveting five-round spectacle, making the anticipation for their next fight palpable.
Journalist Marc Raimondi delves deeper into the implications of this unforeseen change, analyzing the stakes for both fighters.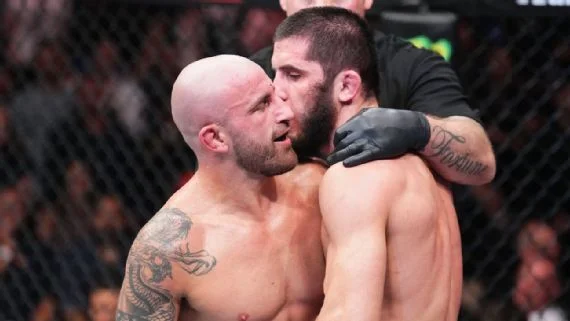 "Is it a mistake for Volkanovski to take this fight on 11 days' notice? It's surely a risk. Volkanovski is supremely confident and has already been there with Makhachev for five rounds," Raimondi muses.
The question arises about the wisdom of taking on such a significant bout without the luxury of a full training camp, especially against a formidable opponent like Makhachev.
Weighing the Odds for Makhachev
For Islam Makhachev, accepting a fight against a new opponent at the eleventh hour isn't without its complications either.
"It's an interesting question, because conventional wisdom says the fighter coming in on short notice with no training camp is at a disadvantage," Raimondi says, exploring the intricacies of the decision.
About last news #ufc294 pic.twitter.com/xYu1uGYCZl

— khabib nurmagomedov (@TeamKhabib) October 11, 2023
While Makhachev's credentials and previous win over Volkanovski might suggest a favorable outcome, unpredictability remains an inherent aspect of MMA bouts.
Khabib Nurmagomedov, who is currently assisting Makhachev in his training camp, seems unfazed by the switch, emphasizing that the opponent "doesn't matter."
The Fate of Charles Oliveira
With Oliveira's abrupt exit from UFC 294, speculations have arisen about his next move.
"He heals up that cut and waits. Maybe he even gets a title shot next year in Brazil out of this," notes Raimondi.
Despite being in a favorable position as the No. 1 contender, Oliveira's future bout scenarios are still in flux. The dynamics could change, especially if Volkanovski clinches the lightweight title.
Why Volkanovski?
Considering the plethora of talented fighters in the UFC, the decision to have Volkanovski step in has raised eyebrows. As Raimondi suggests, the answer might be straightforward:
"Volkanovski represents the biggest possible fight — even bigger than Oliveira, theoretically — and he was available and willing."
Given the current rankings with Volkanovski and Makhachev as No. 1 and No. 2 respectively, the rematch is undoubtedly one of the most awaited in the lightweight division's history.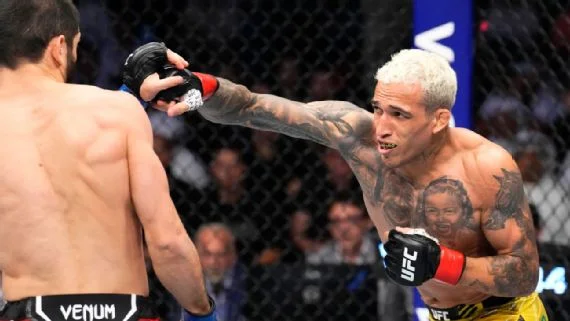 Potential Aftermath for the Featherweight Division
Whether Volkanovski wins or loses at UFC 294, the implications for the 145-pound category are intriguing. If he emerges victorious, an interim title fight may be in the cards. Should he face defeat, he might revert to defend his featherweight title. Regardless of the outcome, the UFC landscape is set for exciting developments.
A High-Stakes Game of Strategy and Guts
In the high-octane world of UFC, surprises are part and parcel of the game. With fighters constantly pushing their limits, matchups like these exemplify the passion, strategy, and sheer determination that define the sport. As UFC 294 draws near, all eyes are on Volkanovski and Makhachev, two warriors poised to etch their names further into MMA history.