A Surprise Turn of Events Ahead of UFC 294
When the MMA community got wind that Charles Oliveira had to pull out from the UFC 294's main event, the buzz of anticipation was undeniable. The twist? The replacement match-up is potentially even more exhilarating.
The Disappointment: Oliveira's Unfortunate Exit
The news broke that Charles Oliveira, former lightweight champion, had to bow out from the highly anticipated event set for October 21 in Abu Dhabi, United Arab Emirates. Dana White, UFC's president, confirmed Oliveira's exit on a Tuesday night, shedding light on the reason behind this decision.
"In my last training session here in Brazil, I ended up suffering a head-butt. It opened a very deep cut. I had eight or nine stitches, I don't really know," Oliveira mentioned on his social media.
His injury, a cut from an accidental head-butt, was severe enough to necessitate stitches and halt his appearance in the upcoming bout. Oliveira further added:
"It's a very deep cut to be able to fight, to recover in the little time I have and put on a great fight. So my team, together with the UFC, decided to pull out of the fight so I could be 100% ready for the next one. Everyone knows the importance of this fight. It's not just a fight, it's a title fight, so there are big things involved."
The Unexpected Showdown: Volkanovski Steps Up
In a turn of events that had the MMA community buzzing, featherweight champion Alexander Volkanovski was quick to fill the void left by Oliveira. With only 11 days to prep, Volkanovski will face lightweight champ Islam Makhachev in what is expected to be a legendary match-up.
Dana White was notably impressed by Volkanovski's swift agreement to the fight. He expressed his admiration during a news conference, stating:
"The Volkanovski crew, him and Israel [Adesanya], these guys are absolute studs, man."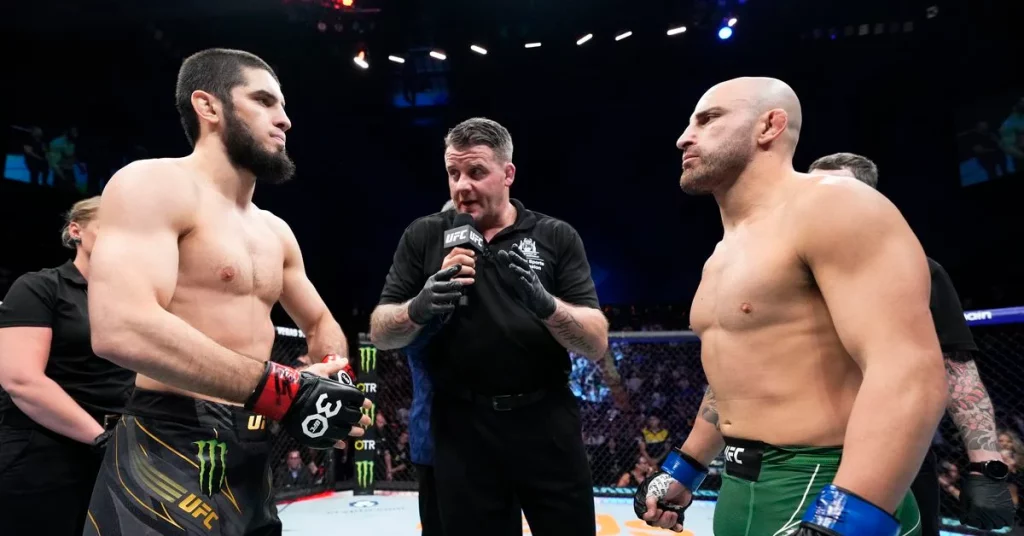 On his opponent, Makhachev's sentiments were clear and confident:
"New opponent, same goal. … I respect him, because he took this fight," Makhachev said. "This guy is really tough. If you want to stop him, you have to choke him or knock him out. This guy is going to fight five rounds." But he emphasized, "I am the best fighter in the world. … You have to show people who is best, doesn't matter who is coming at you."
The Stakes: Rematch of the Titans
The MMA aficionados would remember the fierce duel between Makhachev and Volkanovski at UFC 284. It was an edge-of-the-seat battle with Makhachev securing a narrow unanimous decision win. ESPN now ranks Volkanovski and Makhachev as the No. 1 and No. 2 pound-for-pound fighters respectively, highlighting the gravity of this rematch.
White summed it up, remarking:
"This is how we do it, brother. One fight falls out and we end up making a fight — it's one of the most anticipated rematches ever in that weight class."
Makhachev, holding an impressive 24-1 record, has been on a winning spree with 12 consecutive victories. He's often seen training alongside the MMA giant Khabib Nurmagomedov. Volkanovski, on the other hand, bounced back from his loss against Makhachev, defeating Yair Rodriguez at UFC 290 in a featherweight title fight.
What's Next?
The MMA universe is poised for one of the most electrifying encounters in recent history. With the stakes higher than ever, both fighters are prepping to give their all, ensuring UFC 294 will be an event to remember.