Justin Gaethje vs Max Holloway: A BMF Title Showdown Looms at UFC 298
The Anticipation Builds for UFC 298: A Potential Gaethje-Holloway Clash
As the Ultimate Fighting Championship (UFC) gears up for a sensational year in 2024, all eyes are on the possible main event showdown at UFC 298 featuring Justin Gaethje and Max Holloway. With the UFC already buzzing from the announcements for UFC 297, 298, 299, and the landmark UFC 300, the potential addition of a Gaethje vs Holloway fight for the BMF title adds another layer of excitement to the UFC's lineup.
The BMF Title: A Battle Between Gaethje and Holloway
Justin Gaethje, the reigning BMF champion, and Max Holloway, a formidable contender at 145 pounds, are currently without a fight booked. This vacancy sets the stage for a riveting confrontation between these two celebrated fighters. Holloway's impressive track record in the featherweight division, despite setbacks against Alexander Volkanovski, and Gaethje's triumph over Dustin Poirier for the BMF title, have positioned both fighters at the pinnacle of their careers.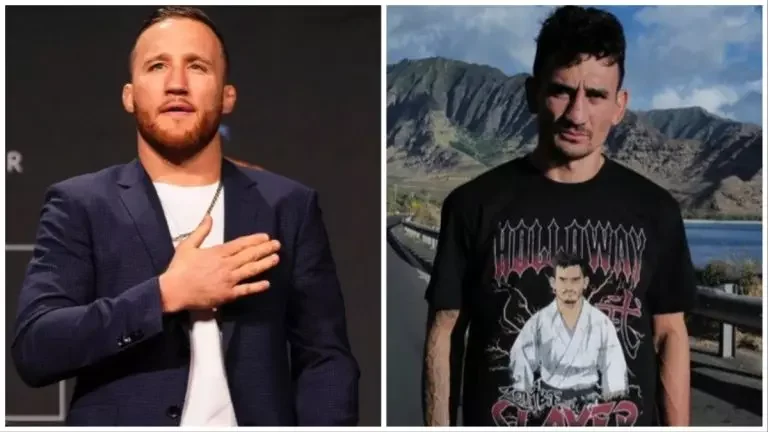 Ali Abdelaziz Teases a High-Octane Matchup
MMA manager Ali Abdelaziz ignited the excitement with a tantalizing hint on social media. In a tweet, Abdelaziz posed a question to UFC fans: "Who wants to see @Justin_Gaethje vs Max Holloway February 17 for the BMF title?" This proposition, naturally, has sent ripples of anticipation through the UFC fanbase, as both Gaethje and Holloway are renowned for their dynamic and thrilling fighting styles.
Who wants to see @Justin_Gaethje Vs Max Holloway February 17 for the BMF title ?

— Ali Abdelaziz (@AliAbdelaziz00) November 18, 2023
A Fan's Dream: Gaethje vs Holloway
The prospect of Justin Gaethje and Max Holloway stepping into the octagon for the BMF title is nothing short of a dream matchup for UFC enthusiasts. Known for their relentless action and crowd-pleasing performances, a bout between these two icons promises to be an unforgettable clash. Holloway's legacy in the featherweight division and Gaethje's recent momentum make this potential fight a compelling storyline for UFC 298.
The Path Ahead: What's Next for Gaethje and Holloway?
As speculation continues to grow around this potential BMF title fight, fans eagerly await confirmation from the UFC. The pairing of Gaethje and Holloway offers a perfect blend of skill, excitement, and fan appeal, setting the stage for what could be one of the most memorable battles in UFC history. With UFC 298 on the horizon, the anticipation for this possible main event is palpable, promising an epic showdown between two of the sport's most electrifying fighters.
In conclusion, UFC 298 is shaping up to be a monumental event in the UFC calendar, and the addition of a Justin Gaethje vs Max Holloway fight for the BMF title would undoubtedly elevate it to new heights. Both fighters bring a unique blend of skill, heart, and fan appeal to the table, promising a battle that will be etched in the annals of UFC history. As the world of MMA holds its breath, the prospect of this electrifying matchup at UFC 298 offers an exhilarating glimpse into the future of the sport.