The Showdown We Never Saw Coming
Former UFC heavyweight champ Francis Ngannou is stepping into an arena quite unlike any octagon: the boxing ring. This Saturday, Ngannou has his sights set on the indomitable Tyson Fury, the WBC heavyweight champion and arguably the best heavyweight boxer of modern times. After parting ways with UFC, Ngannou seized an opportunity that's both a dream and a potential nightmare. It's like stepping into a lion's den armed only with a slingshot. But hey, it worked for David, didn't it?
"Expecting Ngannou to do what no man has been able to do and defeat Fury is expecting too much. But a fight is a fight and crazy things can happen," says an insider.
Those involved in #FuryNgannou have refused to answer a basic question: Is it an official fight? 1 person involved answered like this Monday: "It is a #boxing contest that is regulated & fought under the rules of the British Boxing Board of Control. How's that for a non-answer?"

— Dan Rafael (@DanRafael1) October 24, 2023
Power Vs. Technique: The Battle of the Titans
Land the Hail Mary Shot
No one doubts Francis Ngannou's raw power. This man has registered the hardest punch ever recorded, with a striking power of 129,161 units on the PowerKube. To translate that into layman's terms, the guy hits like a runaway train.
"Ngannou has zero chance to win this fight outside of scoring the knockout. He has to land a big, fight-changing bomb," says a fight analyst.
Deontay Wilder, who packs one of the hardest punches in boxing history, couldn't keep Fury on the canvas. Could Ngannou, a martial artist-turned-boxer, be the guy to finally do it?
Don't Be "a Boxer"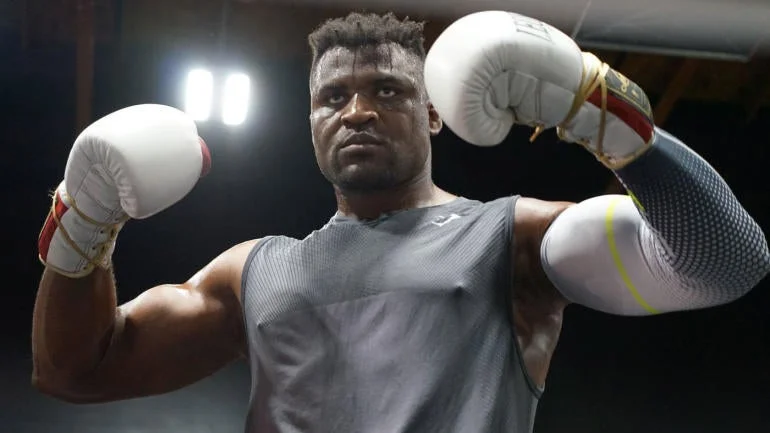 In this fight, orthodox could be Ngannou's worst enemy. Boxing purists would scoff at the idea, but mixing in his MMA background might give Ngannou the unpredictability he needs to outwit Fury. His unique stance and angles might just shake Fury out of his textbook boxing comfort zone.
"Ngannou does not have the technical boxing base of a world champion-level boxer. The more Ngannou can present controlled awkwardness, the better chance he has," says Eric Nicksick.
Even Mike Tyson, who has been more symbolic in Ngannou's training camp, pushes him to break barriers. Ngannou's coach Eric Nicksick told CBS Sports, "Every time I felt like Francis had met his breaking point, he would look over at Mike Tyson and be like, 'No, I have to do it.'"
Embrace the Chaos: Make It Dirty
If this were a match of etiquettes, Ngannou wouldn't stand a chance. His path to glory will have to be rough and rugged. Getting inside and becoming a thorn in Fury's side might make Fury rethink his strategies. Fury is eyeing an undisputed heavyweight championship bout with Oleksandr Usyk, and Ngannou's antics could plant seeds of doubt in his mind.
"Knowing when and how to get inside and rough Fury up a bit could be a central piece of the puzzle for Ngannou," suggests a fight strategist.
The Spectacle That Could Change Boxing Forever
Oleksandr Usyk, the unified heavyweight champion, is not just a spectator but an interested party. A potential face-off between him and Fury could be delayed or even canceled depending on the outcome of this fight.
"At this present moment in my time in life, I'm only interested in Ngannou," Fury states.
Indeed, the world will be watching as these two titans clash in Saudi Arabia. It's a bout filled with uncertainty, but one thing is for sure: it's going to be a spectacle that either cements Fury's legacy or catapults Ngannou into a stratosphere few fighters have ever reached.
Place Your Bets, The Showdown Is On!
So who'll emerge victorious? The proven boxer or the dynamite-fisted underdog? As the clock ticks toward this historic clash, it's anybody's guess. What is certain is that we're in for a night that could very well rewrite the history of combat sports. Are you ready?