Why Ngannou's Next Move is Crucial
In the high-octane world of combat sports, no name has been on everyone's lips more than Francis Ngannou. With an electrifying performance that took heavyweight champion Tyson Fury to a split decision in his pro boxing debut, Ngannou's career is at a defining crossroad. Now, as 2024 beckons, the athlete must choose his path, having emerged as an alluring prospect not only for MMA under the PFL but also as a coveted opponent for boxing giants like Anthony Joshua and Deontay Wilder.
"He arguably solidified himself as the most attractive opponent for top heavyweights in boxing," sources say.
UFC's Matt Brown Weighs in on Ngannou's Path
Veteran UFC welterweight Matt Brown has a unique perspective on what Ngannou should do next. He passionately believes that unless something monumental happens, Ngannou should stick to boxing.
"If somehow – [and] we know it's not going to happen – the UFC co-promotes with PFL and it's Jon Jones vs. Francis Ngannou," Brown expressed on The Fighter vs. The Writer, "That's the biggest fight you could make in MMA history."
Despite his strong sentiment, Brown recognizes that the UFC, historically, hasn't been enthusiastic about co-promoting. However, he hints at a glimmer of possibility.
"Dana has evolved a lot. Remember he said there would never be women [in the UFC] back in the day, right? Then he did that. We're always shocked at the UFC's business moves."
The Challenge Ahead for Ngannou
Ngannou's pivotal challenge in MMA lies in securing a counterpart who can generate equal intrigue. MMA's heavyweight division is notably sparse compared to flagship weight categories like lightweight or welterweight. The UFC boasts the most formidable lineup of heavyweights, further limiting Ngannou's viable options.
"There's no one else to fight in MMA," laments Brown. "Ngannou's the 'A' side. He needs a good 'B' side."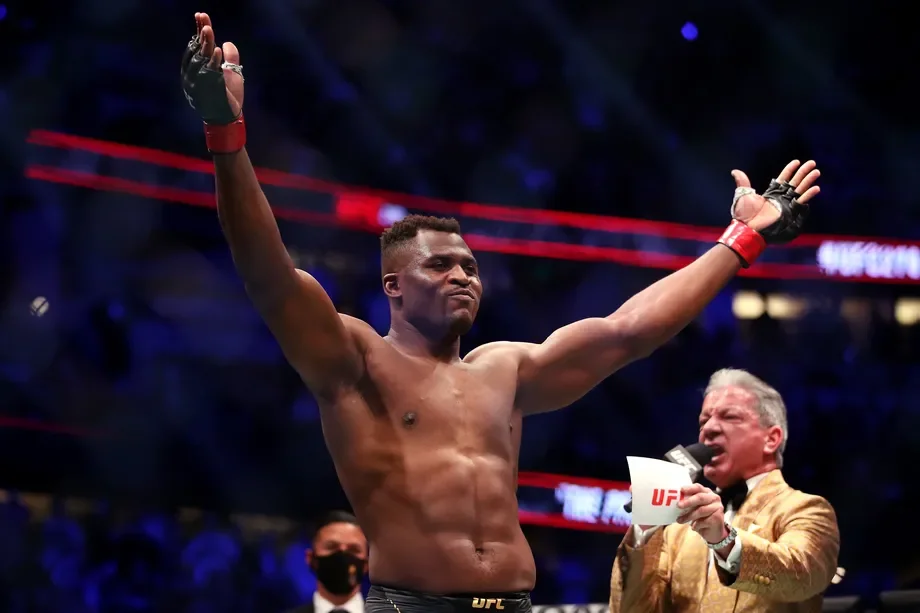 Brown believes that unless a bout with Jones materializes, Ngannou should set his sights squarely on boxing. Anthony Joshua, he suggests, offers an enticing match-up, with Wilder as another solid alternative.
"I think Anthony Joshua would…tell us a lot about who Ngannou would be as a boxer. That is without question the biggest selling match out there for Ngannou, outside of Jon Jones. So push for that."
The Ring or The Cage: A Decision Looms
As Francis Ngannou stands at this critical juncture, the combat sports world watches with bated breath. With a dazzling array of options across MMA and boxing, his next move will undoubtedly be one for the history books. Whether he'll opt for the raw passion of MMA or the polished finesse of boxing remains to be seen. One thing's for sure: the world will be watching.